[ad_1]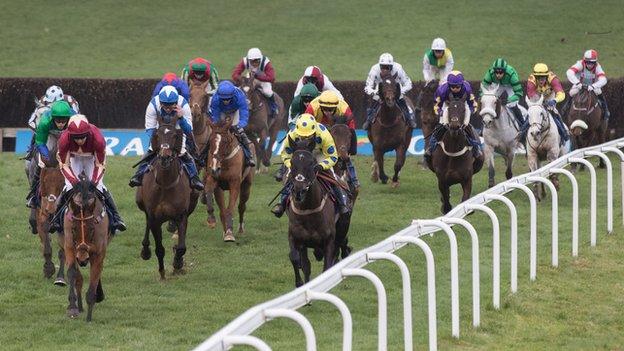 Festive sport in Wales will be held behind closed doors as the Welsh government continues its fight against Covid-19's Omicron variant.
The restrictions affecting all levels of sport in Wales start on 26 December with an end date not officially set.
Cardiff v Scarlets in the United Rugby Championship (URC) on that day will be the first major fixture affected.
Welsh economy minister Vaughan Gething said a £3m fund will be in place to "support" clubs and venues.
In a statement the Welsh government said: "The latest figures showed a further steep rise in the number of confirmed cases of the fast-moving variant."
Gething said: "Sporting events over the Christmas period are one of the big highlights of the year. Unfortunately, the new omicron variant is a significant development in the pandemic and could cause a large number of infections.
"We need to do everything we can to protect people's health and control the spread of this awful virus.
"Throughout the pandemic we have followed scientific and public health advice to keep people safe. The advice is clear – we need to act now in response to the threat of omicron. We are giving people as much notice of these decisions as we can.
"Crowds will come back as soon as possible. We want everyone to be here to enjoy their favourite sports."
Horse racing's Welsh Grand National at Chepstow on 27 December will also be held without spectators.
The rules will apply to all levels of sport in Wales, including semi-professional and grassroots as well as elite, and it is understood the initial plan is for the restrictions to stay in place until at least Friday, 7 January.
The Welsh government says a sporting event "refers to all indoor and outdoor sporting events, whether ticketed or not, with spectators. It includes larger sporting events and those at every level, including community sporting events, which attract significantly smaller crowds".
The Welsh government statement added: "The overall rate of coronavirus infections is also rising in Wales and now stands at just under 550 cases per 100,000 people.
"The First Minister (Mark Drakeford) last week warned of a gathering storm of omicron infections after the Christmas period as some strengthened measures were introduced from 27 December to protect lives and livelihoods.
"The coronavirus regulations, including playing sports behind closed doors, will be reviewed regularly."
Football's Cardiff City v Coventry on Boxing day has already been called off, as has Ospreys v Dragons in the URC.
However, Cardiff's Welsh rivals Swansea go to Millwall on 26 December with the UK government not having placed any restrictions on crowds at venues in England.
Newport County v Forest Green Rovers in League Two is, like Cardiff City's Championship game, off because of Covid, but Wrexham are due to entertain Solihull North in the National League.
There are due to be six games in the Cymru Premier on Boxing Day, including some derbies with clubs having anticipated revenue-boosting larger gates.
After that, in football, the Bluebirds' lack of home games until they meet Preston North End on Sunday, 9 January in the FA Cup means their finances will be unaffected by no fans through the turnstiles.
In the meantime Swansea will miss out on gates against Luton Town and Fulham before Premier League Southampton visit them in the FA Cup on 8 January.
Rugby's New Year's Day games – Dragons v Cardiff and Scarlets v Ospreys – will also lack the traditional raucous backdrop generated by rivalries among fans.
Cardiff Devils ice hockey team have two home games during the festive period that must be played without fans.
Welsh sporting bodies and clubs were informed of the decision on Monday evening having earlier held meetings with Vaughan Gething, the Welsh Government's minister of economy.
It came after announcements that games would continue at EFL level despite recent cancellations because of Covid cases among squads.
Sport responds
A Bluebirds response to the Welsh government's move read: "Cardiff City Football Club acknowledges the instruction from the Welsh Government for sporting events in Wales to be played behind closed doors for a limited period of time in an effort to curb the spread of the Omicron variant.
"Following the postponement of our Boxing Day fixture with Coventry City on Monday, this is set to most immediately impact our FA Cup third round tie with Preston North End on January 9th.
"Further information will be issued to supporters in due course."
An EFL spokesperson said: "The EFL notes the disappointing news that fans of Welsh clubs competing in the EFL will be unable to watch their team play live at home over the festive period, but we appreciate there are many factors influencing each administration's decision.
"Looking forward, the League will continue to work with our broadcast partners and other relevant stakeholders throughout this difficult period as we consider how we can appropriately support our Welsh Clubs and their supporters so they can watch their team while matches are played behind closed doors.
"In addition, we will engage with the authorities in Wales to determine what type and or level of financial support they can provide our Clubs in Wales whilst they are unable to welcome supporters through the turnstiles."
Scarlets chief operating officer Phil Morgan said: "This is hugely disappointing for us all, players, staff, supporters and commercial partners, who have shown incredible loyalty to us over the last 18 months.
The festive derbies, particularly our home game against the Ospreys, are always fantastic occasions and we were expecting two of our biggest crowds of the season for the Ospreys and Dragons games.
"While this news will be another significant financial blow to the business, the health and safety of the Scarlets community will always be our utmost priority.
"We will continue to work closely with the Welsh Government and hopefully, when it is safe to do so, we can soon welcome our fans back into Parc y Scarlets."
Wrexham stated: "We are disappointed that fans will be unable to attend our scheduled Boxing Day fixture at the Racecourse Ground, but we understand why the decision has been made.
"For any game that is played behind closed doors while these restrictions are in place, the Club will refund all moneys paid and will share more details regarding this in due course."
[ad_2]

Source link